Congratulations to Amer El-Gozali, one of our Service Contract Engineers, who was nominated as a finalist by his training provider, ESP – The Education & Skills Partnership, for the National Apprenticeship Award. Amer who is pictured (far right), enjoyed the celebratory evening at the ITP annual awards at the Royal Lancaster in London on the 11th of October.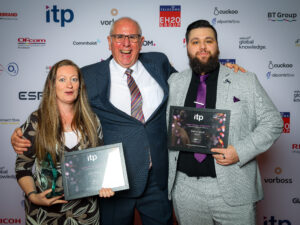 The ITP awards, with a judging panel of industry experts, is to celebrate the outstanding work that individuals are undertaking in the digital industry. Despite not being the overall winner, Emer was ranked within the top three Apprentices for his dedication and commitment to his learning, which is a massive achievement.  
Amer El-Gozali successfully completed his Level 2 Telecoms Field Operative Apprenticeship (TFO) with a distinction this year, learning about all aspects of fibre management and how to build, provide or repair telecom services for commercial or residential customers in the UK's National Telecom Access Network. 
He also gained top marks at his end point assessment which comprised a practical demonstration and professional discussion, which was a credible achievement. 
Well done Amer for your achievements and keep up the great work.